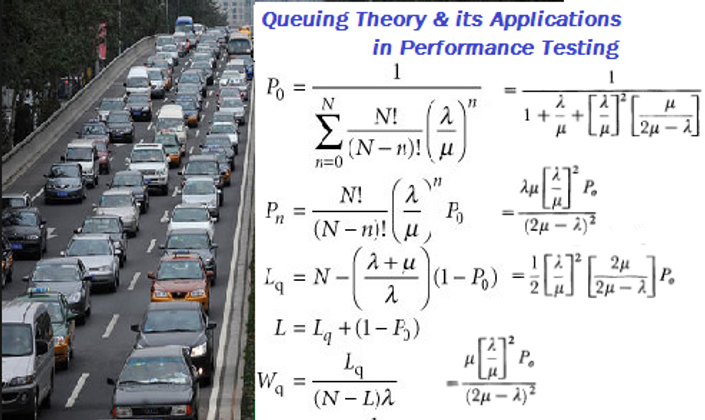 Queuing Theory & its Applications in Performance Testing
Engineer mathematical Performance Evaluation to take the first step towards Performance Modelling
Enroll in this course at http://elearning.qaelitesouls.com .
This course is designed to introduce Queuing Theory & its applications for evaluating the system performance during Performance Testing. This course provides a strong foundation on how to use mathematical principles to improve your performance tests & accelerate problem analysis in strategic manner.
This course will bring in a practical view of how to use operational principles of Queuing theory to engineer system performance evaluation. As this course is an attempt to teach mathematical principles for non-mathematicians, it is designed carefully with full of practical case studies to help Performance Testers to handle practical day to day challenges.
This course will also introduce several analytical & statistical performance modelling & forecasting techniques using practical case studies. This course will serve as the foundation course on Queuing Theory for taking up advanced performance modelling or capacity planning courses.
At the end of this course, Performance Testers will understand how much mathematics is required / involved behind performance problem analysis & will accept its not a scary track anymore to have a career in Performance Modelling.
The Target audience for this course includes Performance Testers & Performance Engineers and other QA professionals interested in mathematical system performance evaluation. This is a Beginner to Intermediate level course of about 4.5 hours duration that can help Performance Testers / Engineers for performing mathematical performance evaluation using Queuing Theory Principles & for taking up advanced Performance Modelling courses in future.
Do watch the free preview lecture videos to know about this course better.

In nutshell, this is a tool agnostic & domain agnostic course which deals with concepts & mathematical principles of Queuing Theory that can be applied for system performance evaluation during Performance Testing & for Performance Modelling.\
For any queries, write to us @ this mail id - [email protected]
Your Instructor
With her 14+ years of industry wide experience in Performance Testing, Engineering & Capacity Planning, she has great passion towards teaching & mentoring. Through her new startup, EliteSouls Consulting Services LLP, she provides technology consulting & training services to individuals & corporates. Her area of interests includes capacity sizing, prediction & modeling. She blogs at Passionate Performance Analyst (http://ramya-moorthy.blogspot.in) & at EliteSouls Blog ( http://elitesouls.in/blogs). You can find a variety of technical articles & free ebooks on her blogs. She is a conference speaker & writer and not the least, proud mother of two cute little kids.
Her recent conferences presentations were at QAI-STC 2016, CMG India 2016 & NFTCON 2016 (in Dec 2016). For course related queries, you can reach out to her at [email protected]
Frequently Asked Questions
When does the course start and finish?
It is a completely self paced online course valid for 1 year (365 days) from the date of purchase. Within this validity period, you decide when to start and when to finish the course.
How long do I have access to the course?
After enrolling, you have unlimited access to this course for 1 year (365 days) - across any and all devices you own. If required, you can renew the course access period for subsequent years based on your need.
I already know the basics of Queuing Theory. Should i take up this course?
The course is not bringing a new mathematical principle or new QN model that can help in performance testing. :) You have enough free materials , ebooks, you-tube videos , pioneer's blogs & books, available on this topic, but might be in bits & pieces. Hence, if you are still looking for a fast track course quickly, led by the instructor to know about the basics & practically understand how to apply them in performance testing activities, then you can enroll in this course.
What if I am unhappy with the course?
Check the course objective, course description, course contents & preview videos carefully before purchasing the course. But still we would never want you to be unhappy! If you are unsatisfied (& have a genuine reason) with your course purchase, contact us within the first 2 days, we will give you a 50% refund.
How to clarify the technical queries ?
You can reach out to the author through mail to clarify all your technical queries. You would receive clarifications within 2 -3 business days.
Sample Testimonial from our student
"Your courses are so unique, clearly outlining the importance and criticality of performance testing and I strongly believe these will be good sources for those who want to aspire their career in Performance Engineering.Thanks a lot for putting all your experiences in the form of courses and helping others to move in right direction. I have already registered for all your online courses and would love to join the upcoming ones without any second thought."
- Baji Pathan, Performance Test Analyst, VirtusaPolaris
For queries, write to us at [email protected]
This course is closed for enrollment.